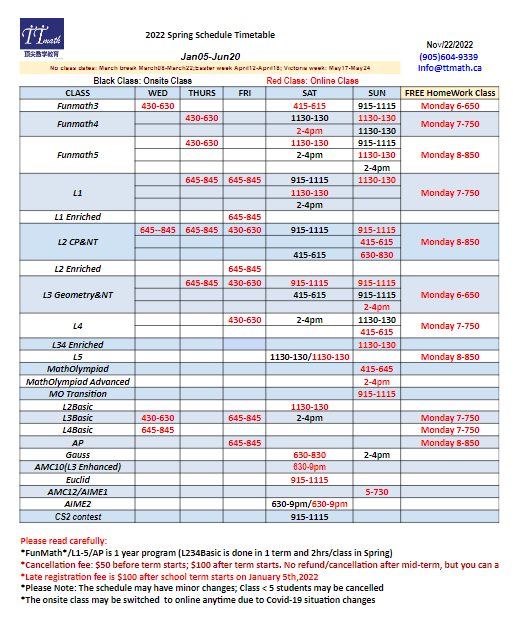 CLASS SCHEDULE FOR SPRING 2021
November 27 2021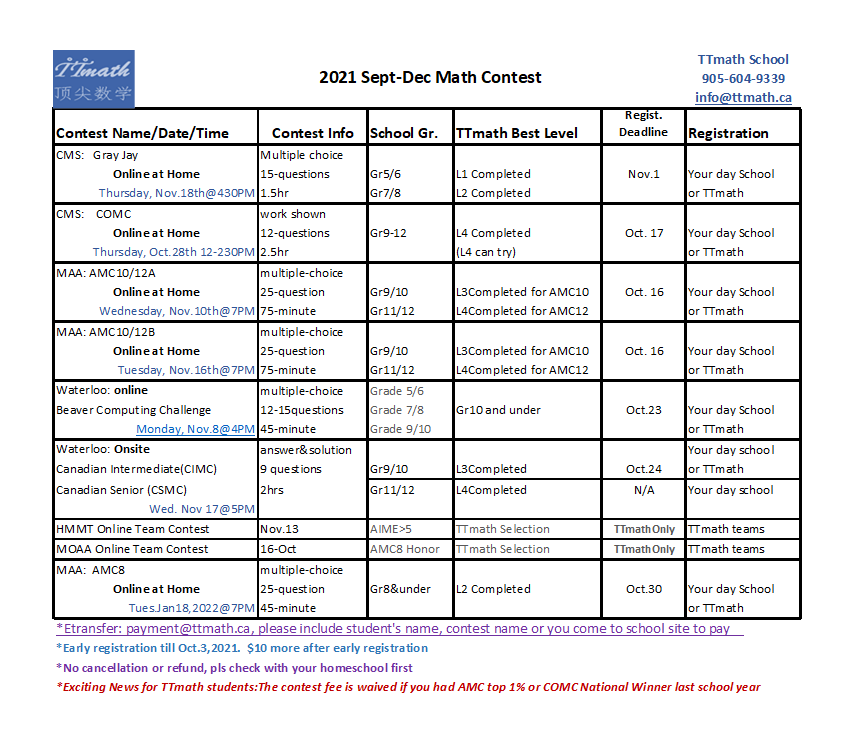 Fall 2021 Contest Schedule
September 23 2021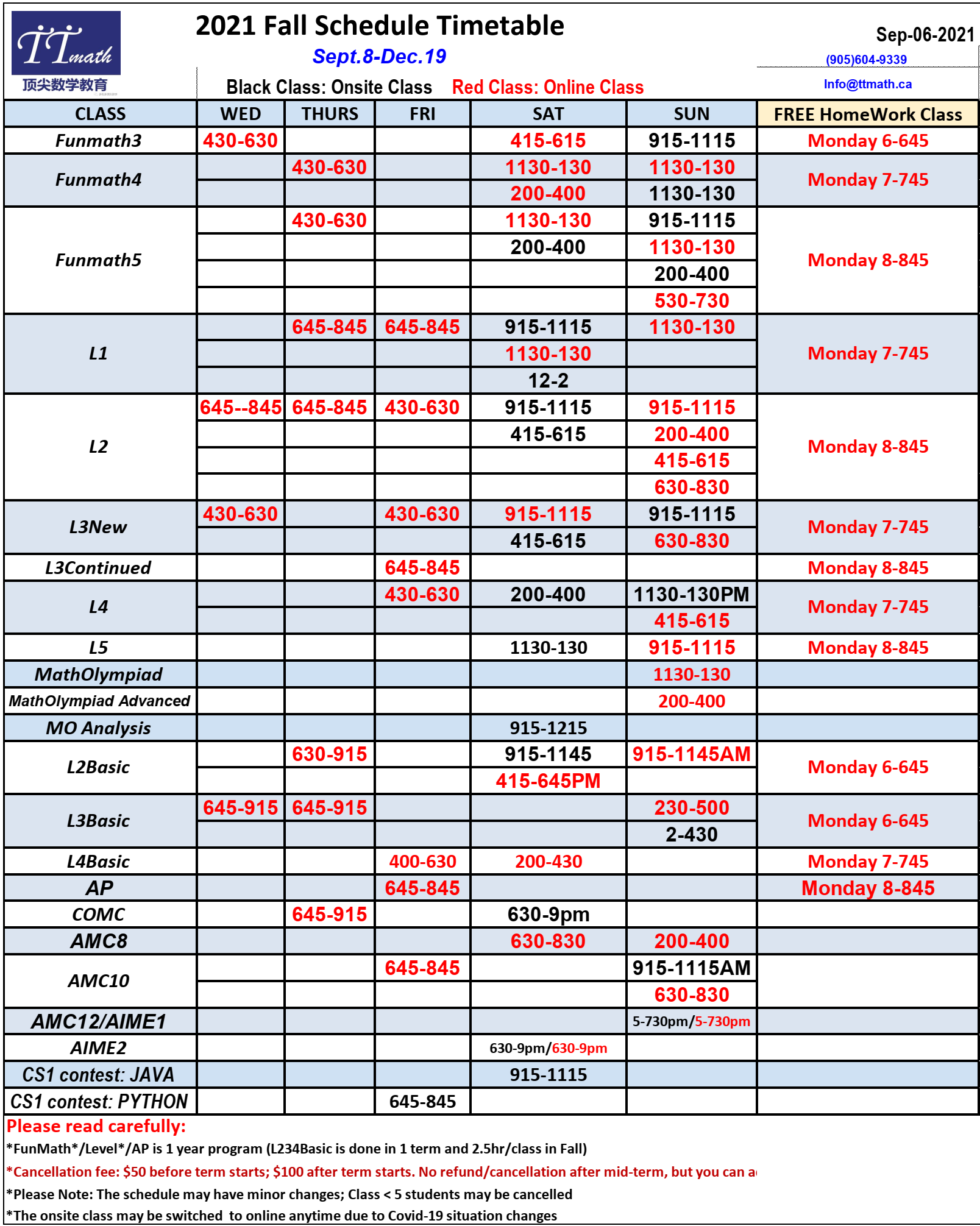 Class Schedule for Fall
July 30 2021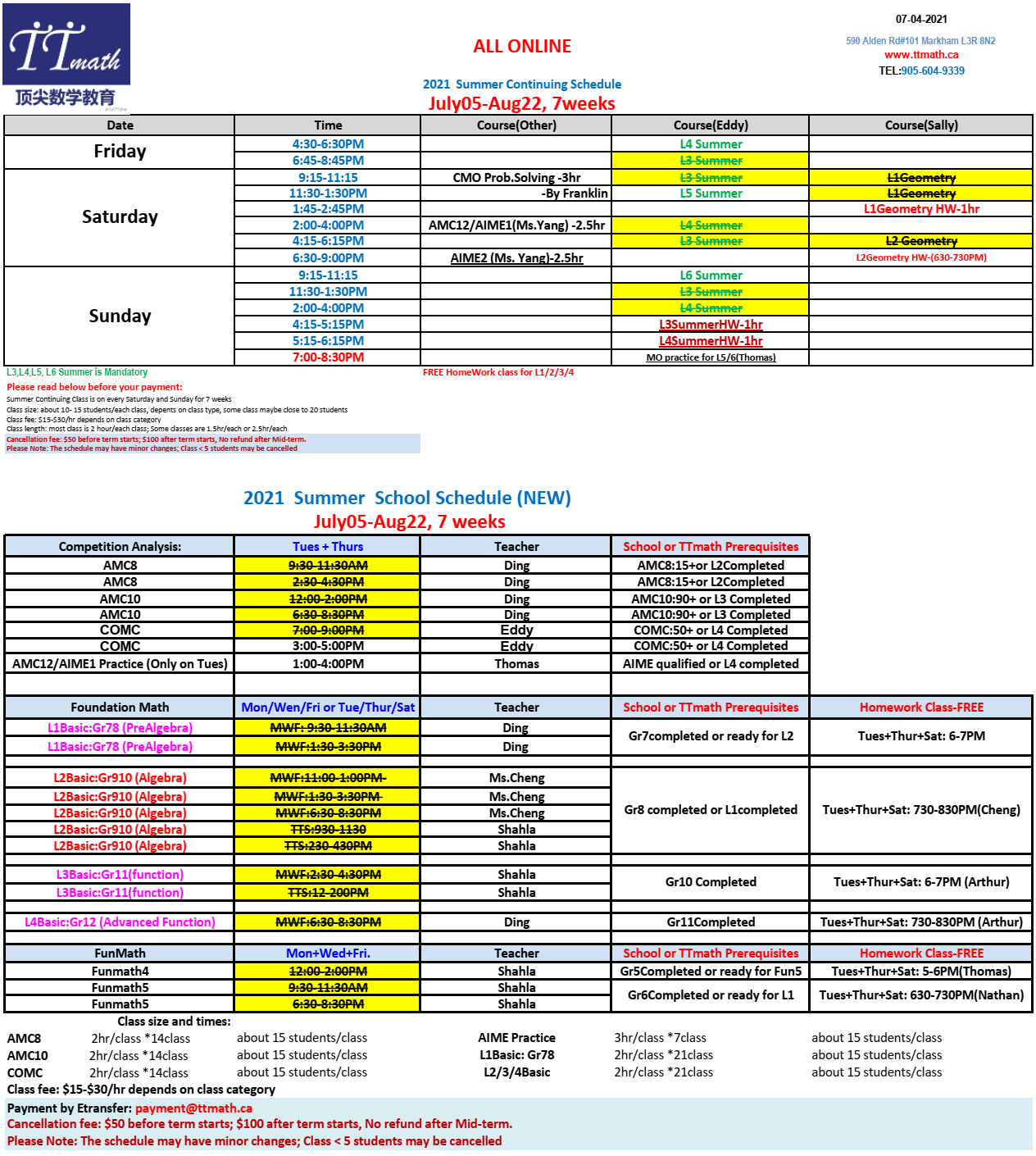 Summer 2021 Schedule!!!
July 17 2021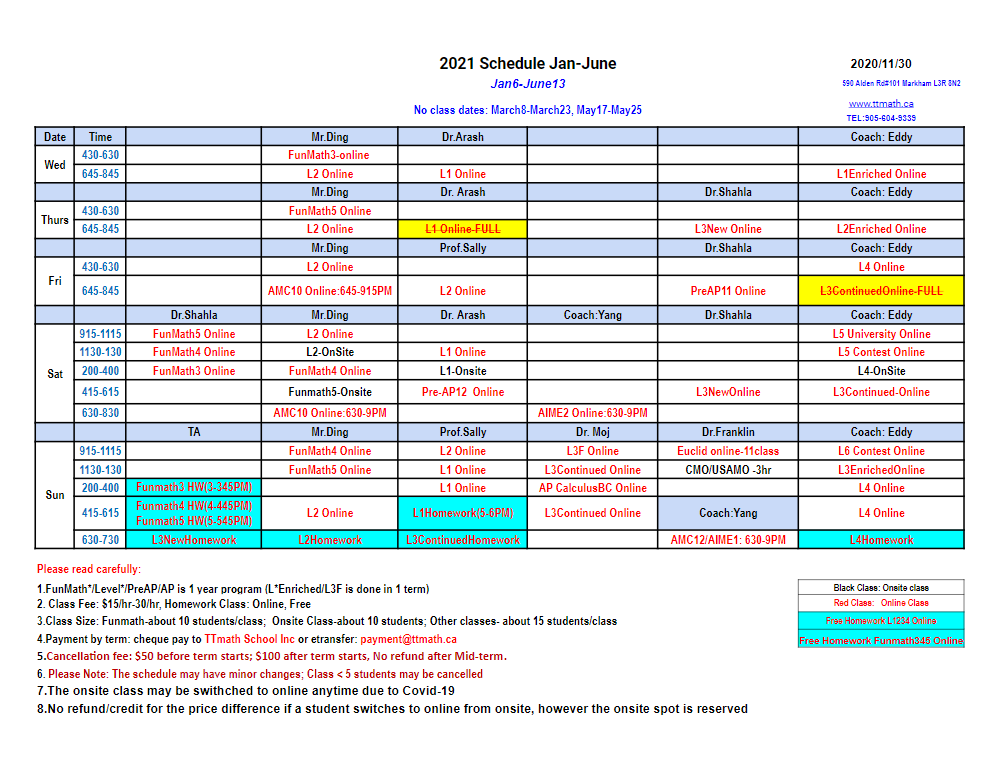 Spring 2021 Schedule!!!
10% off until December 13, 2020
December 7 2020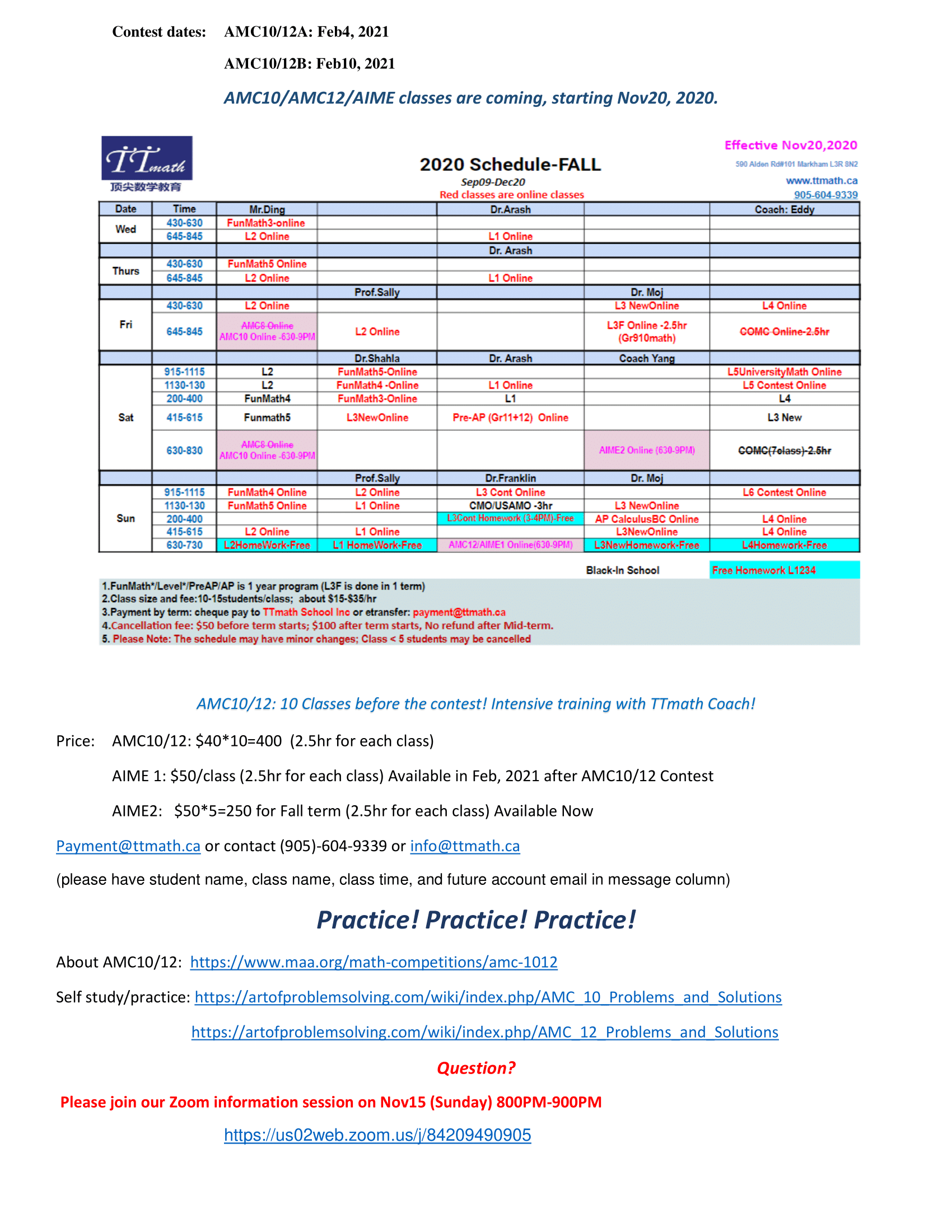 New AMC10/12 Classes
November 13 2020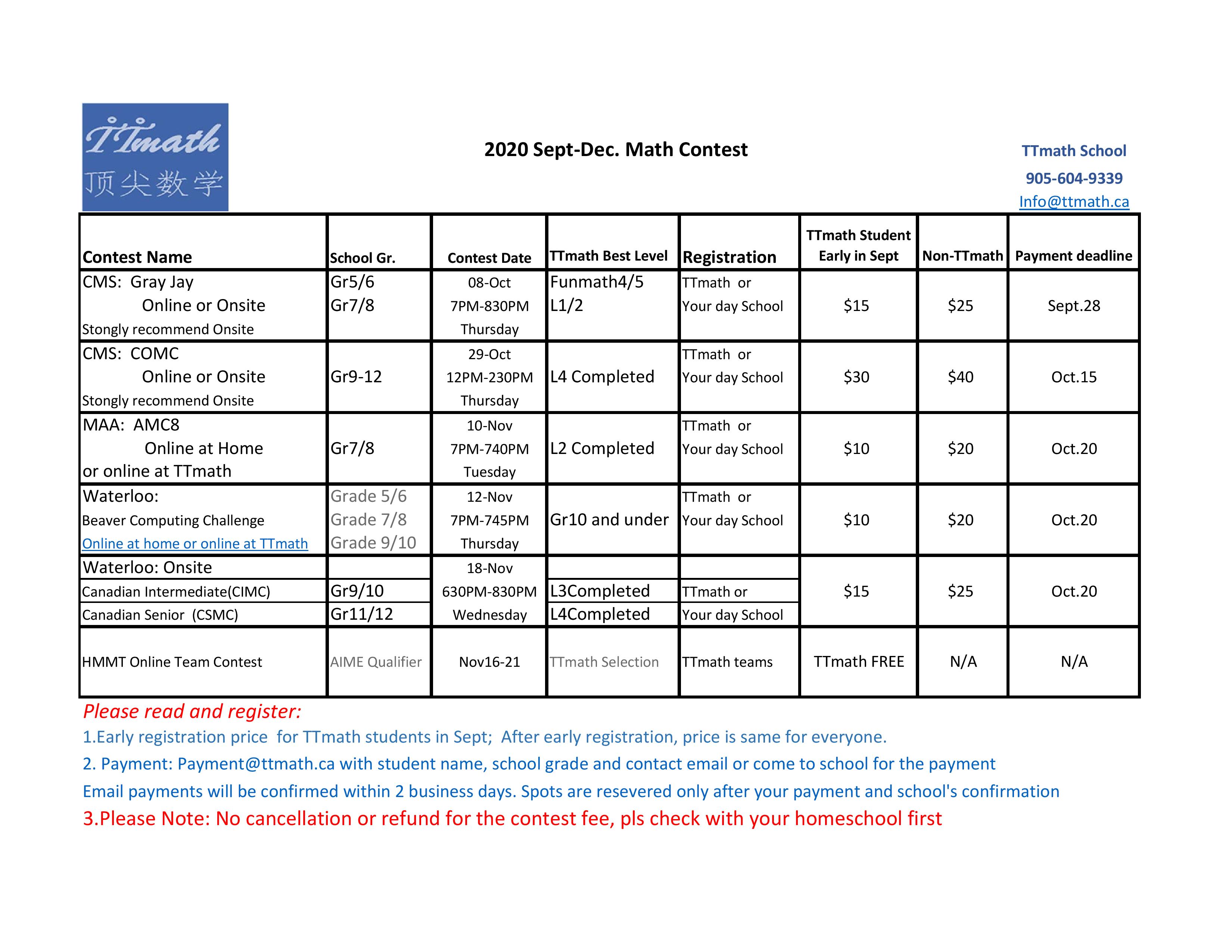 Contest Schedule
September 24 2020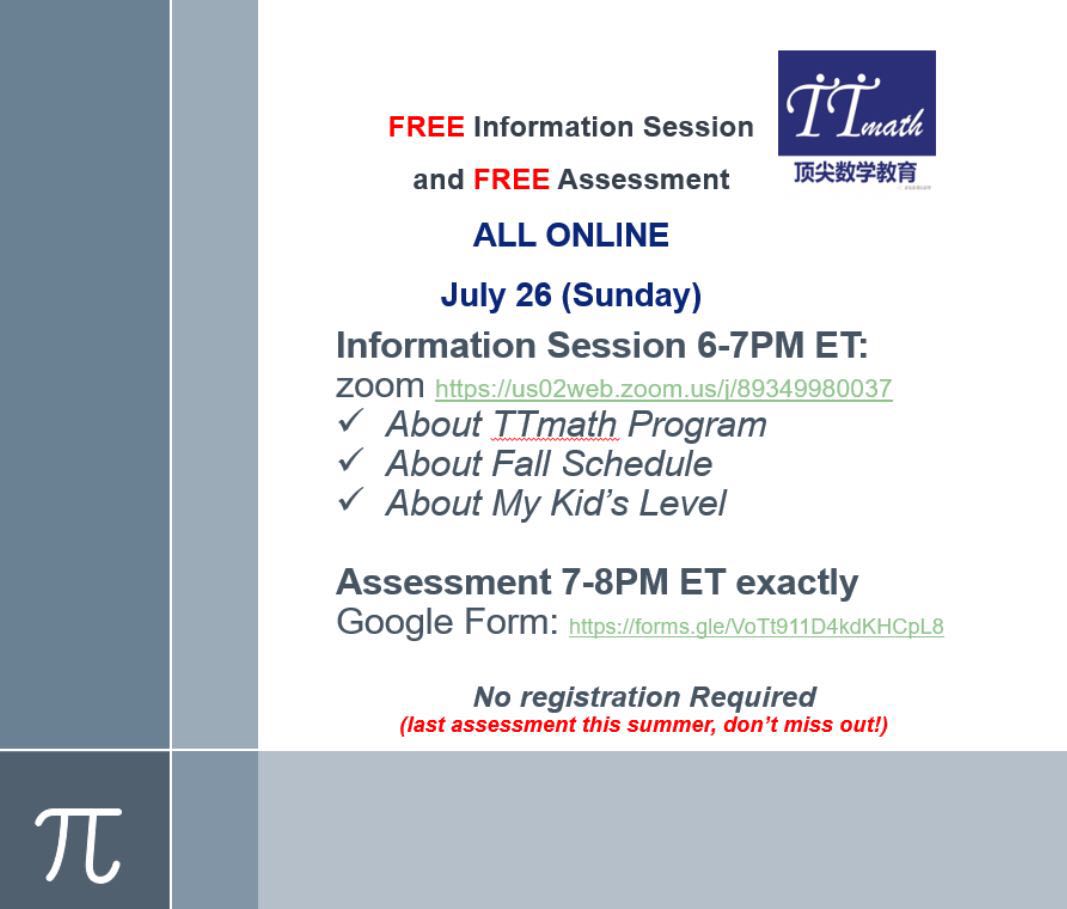 Free Assessment
July 20 2020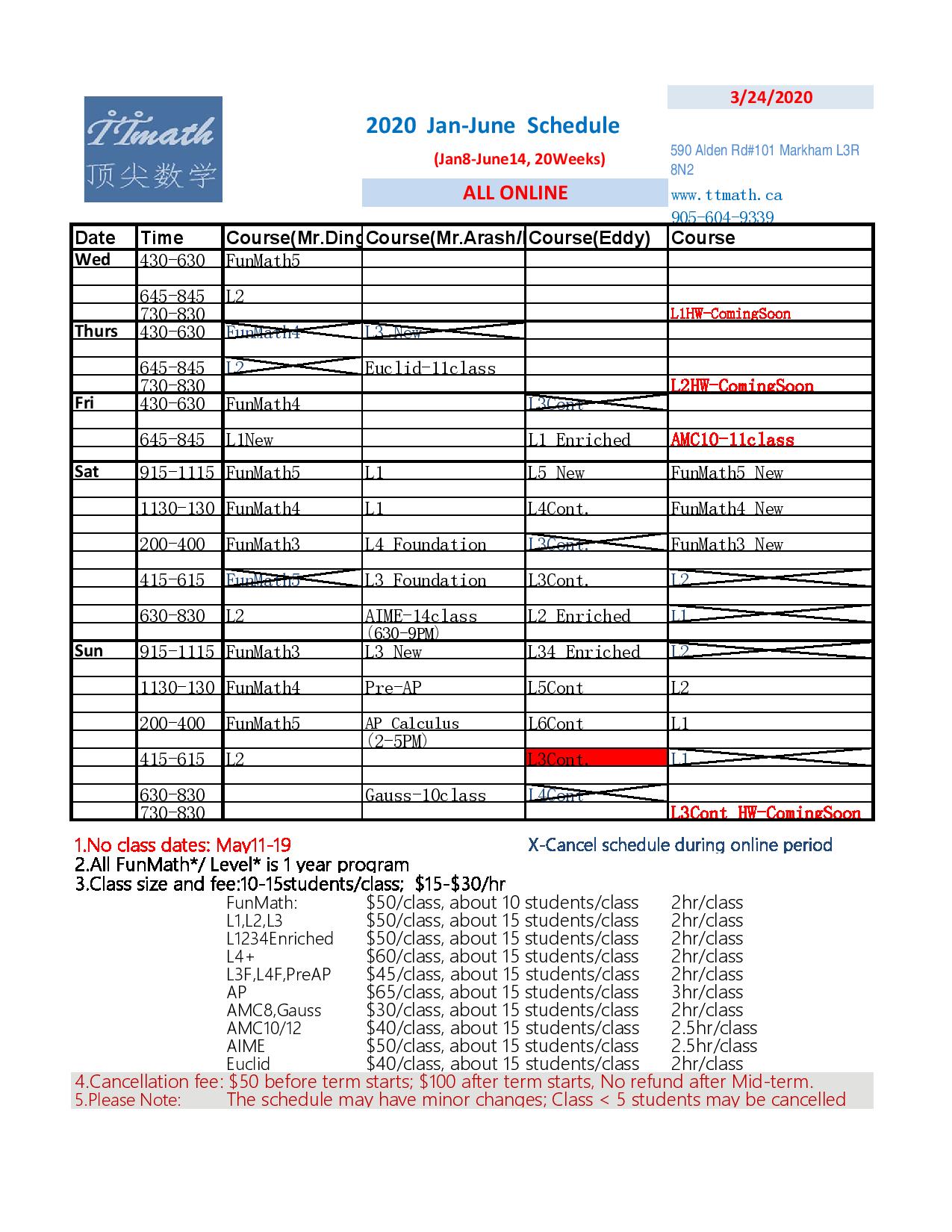 Class Schedule Effective Immediately!!
March 25 2020
Classes Canceled (Jan 29 - Feb 2)
All classes (except AMC10/12) will be canceled this week (Jan 29 - Feb 2). Please note that the actual AMC10A/12A competitions will proceed as planned.
January 29 2020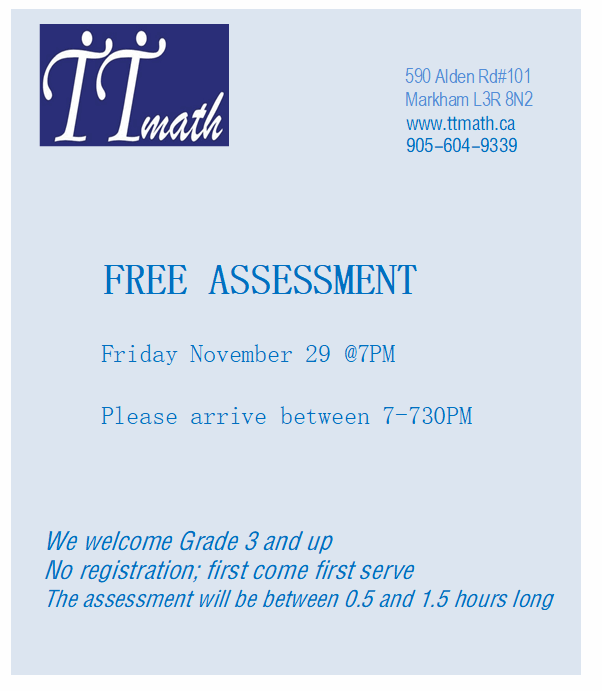 Free Assessment
November 27 2019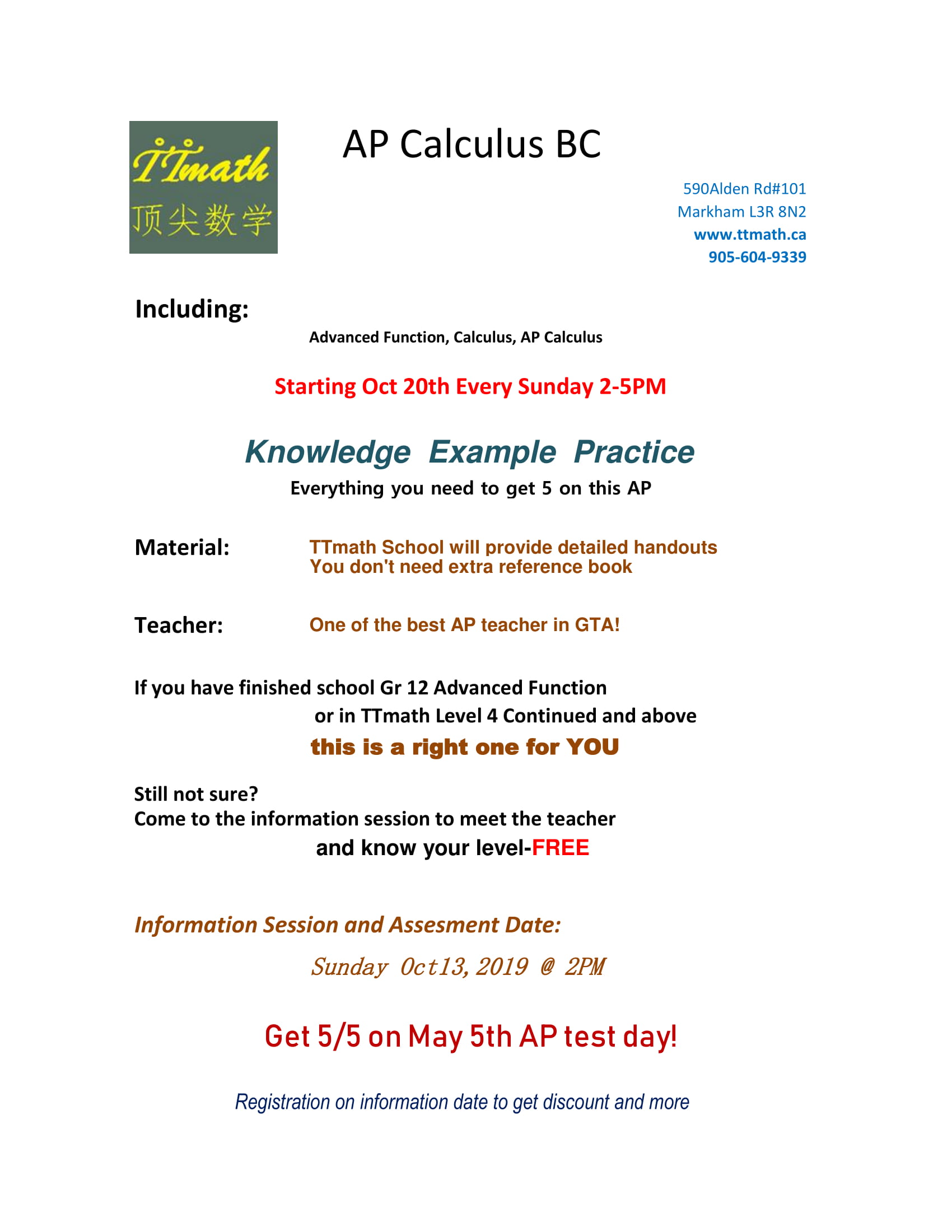 New AP Calculus BC Class
October 5 2019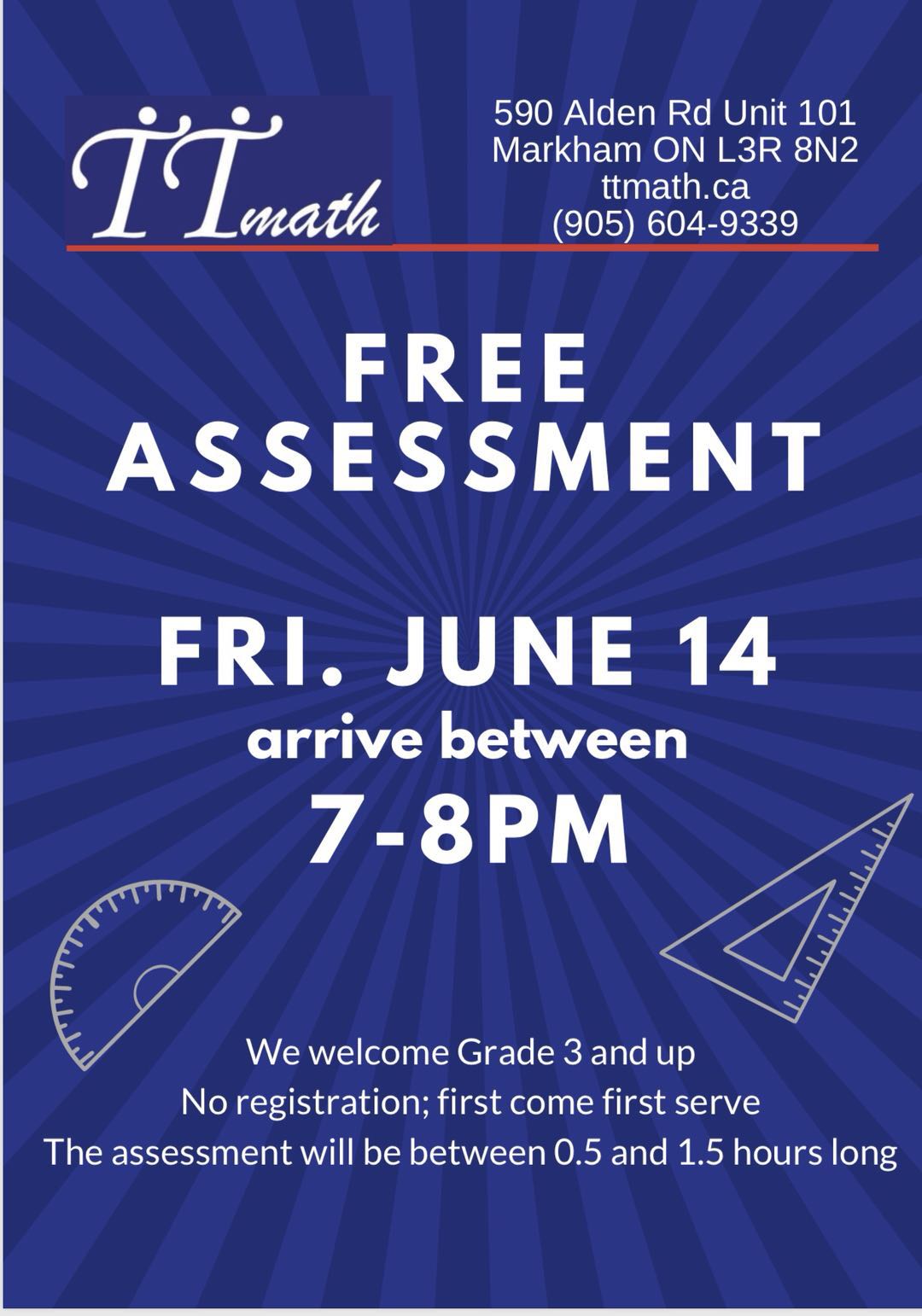 Free Assessment
June 5 2019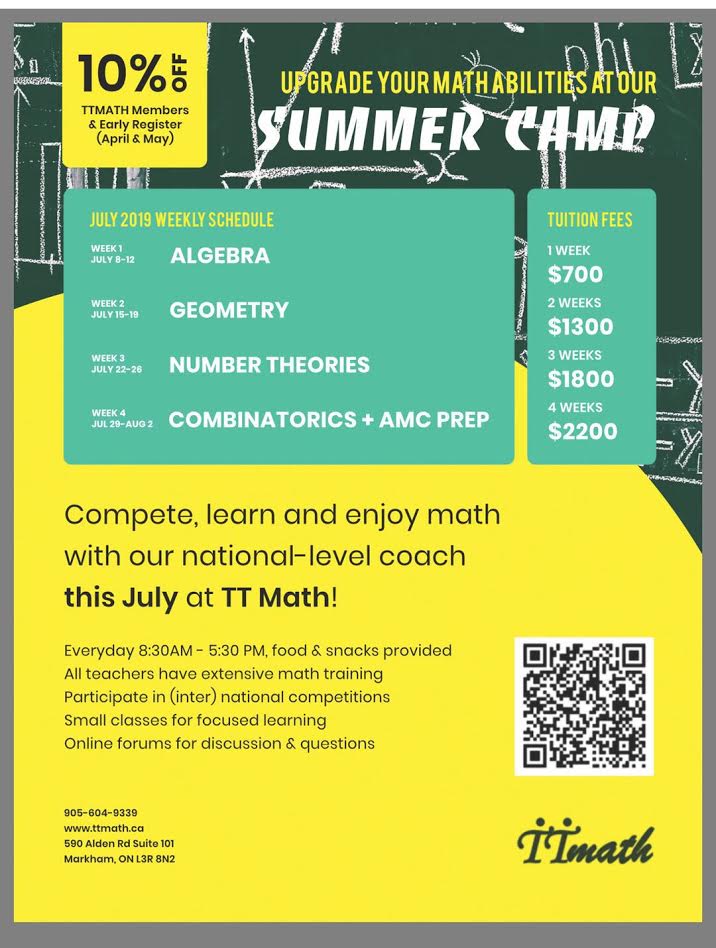 Summer Camp
March 24 2019
TTMATH March Break Camp
March 11-15
Everyday 8:30AM-530PM
830AM-10AM(Optional)
Warm-up: chess and other educational activities
10-12AM: math class with Eddy or Mr.Ding
12-130PM: lunch break and puzzles
130-330PM: math exercises and applications
330-530PM: puzzle games, origami activities
there are two classes of up to 15 students/class
class 1 (grade 6 and below):fun math and critical thinking
class 2 (grade 5-8): intro to contests
students in grade 5-6 will be divided based on ability

Fee:
$700(for 5 days)
$150/day(enrolled daily)
Includes lunch and 2 snacks

⚠️first come, first serve basis
February 26 2019
FREE ASSESSMENT TEST DATES
Sunday, December 2 -- 7:30PM-9PM
Friday, December 7 -- 7PM-9PM
The test will be about 1 hour, please arrive before 8PM. Please bring your own writing instruments and scrap paper.
An information session and Q&A will be held for new parents.
November 28 2018
FREE ASSESSMENT TEST DATES
July 6
August 10
September 7
Time: 6-8PM
Test Length: 1 hour
Bring your own writing instruments and scrap paper
June 25 2018
SUMMER SCHEDULE IS AVAILABLE NOW!
Registration will start this Friday evening, and welcome to our school for Q&A sessions:

04/20-Friday 7-9PM
04/22-Sunday 530-730PM
April 17 2018
CANADA WINTER CAMP
Congratulations to our teacher Eddy who was invited to lecture at Canada Winter Camp.
Congratulations to our student Jessica Zhang who was invited to attend Canada Winter Camp.

(Canada Winter Camp invites the top 15 math students to attend 1 week of intense Olympiad math training. These students are IMO Team Canada candidates.)
January 3 2018
WINTER/SPRING CURRICULUM UPDATED
Please visit our Curriculum page for more details.
December 5 2017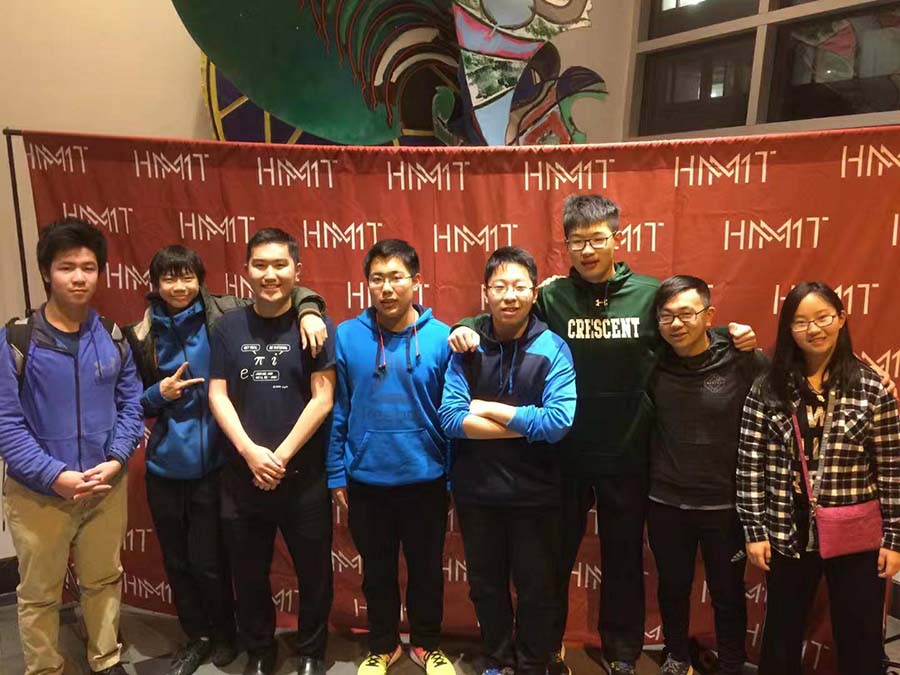 CONGRATS HMMT TEAM! 17/142 IN TEAM ROUND! SO PROUD OF EVERYONE OF YOU!!!
November 11 2017
热烈祝贺我们的HMMT队伍从波士顿凯旋而归!在竞争激烈的来自世界142个队伍中,取得了团体项目17名!祝贺我们所有的队员!祝贺我们的EDDY 教练! 顶尖数学为你们自豪!
November 11 2017
ANNOUNCEMENT FOR HMMT TEAM
Team members: Harry Zhao, Andrew Yuan, Daniel Jin, Patrick Su, John Li and Miranda Guo
Head coach: Eddy Li
October 7 2017
HARVARD-MIT MATH TOURNAMENT IS COMING
Please register ASAP! For more information, please visit here.
September 25 2017
WE HAVE A FEW SPACES FOR FALL COURSES, PLEASE CONTACT US FOR DETAILS.
September 18 2017